HOW TO RUN A PREDICTIVE MAINTENANCE PROOF OF CONCEPT?
At industrial scale, PdM is very hard so how can you be confident that you and the vendor are taking the right steps in order to maximize the chances of success and what does project success look like?
In this white paper, we share our stories, lessons-learned and experience from over 5 years of running successful PdM projects so that you can make sure you are confident of your predictive maintenance software vendor and your own organization to take advantage of this technology.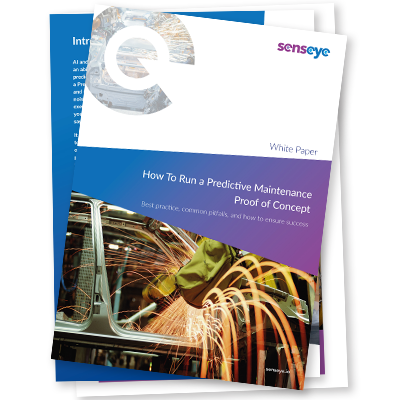 Download your free How to Run a Predictive Maintenance Proof of Concept White Paper
WHY IS PREDICTIVE MAINTENANCE SO HARD?
Companies can eliminate sudden failures, reduce unplanned downtime, increase machine life, optimize scheduled maintenance, and reduce replacement activities with Predictive Maintenance. Why, then, is the implementation and deployment of PdM so misunderstood and littered with failures (over 80 percent according to one study)?
In this paper, we look at the origins and evolution of PdM maintenance, our years of experience and what we've learned, and how all of this informed our own Senseye PdM solution.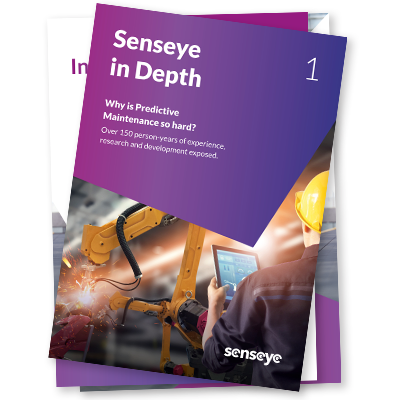 Download your free Senseye in Depth: Why is Predictive Maintenance so Hard Paper
BEST PRACTICES IN CONDITION MONITORING FOR MULTI-AXIS EQUIPMENT
As sophisticated and complex machines, multi-axis equipment experience complex failure modes, which can prove challenging when it comes to condition monitoring.
This white paper provides guidance and best practice based on our practical experience gained in this field. Learn why there is often little benefit of retro-fitting additional sensors or accelerometers, the importance of selecting the right condition monitoring data, and why other approaches aren't scalable.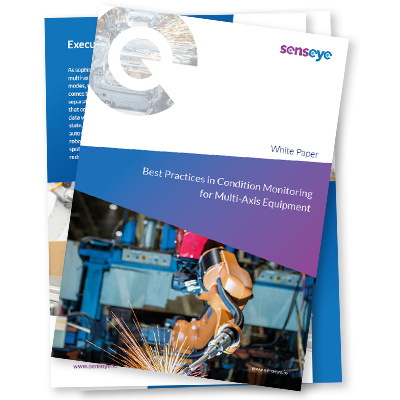 Download your free Best Practices in Condition Monitoring for Multi-Axis Equipment White Paper
PREDICTIVE MAINTENANCE IS ABOUT MORE THAN ALGORITHMS
Most experienced maintenance engineers already have a detailed mental picture of the machinery they care for. They know whether a rattling valve means a breakdown is imminent, for example, or if it is safe to ignore it until the next scheduled shutdown. If a predictive maintenance system can tap into this pool of knowledge, it can learn to provide the best possible support in the decision-making process.
This white paper looks at the importance of a user-centric approach to predictive maintenance, the lessons we can learn from other industries, and how Senseye focuses on meaningful outcomes for users.
Download your free Predictive Maintenance is About More Than Algorithms White Paper
PREDICTIVE MAINTENANCE PROMISES INCREASED MARGINS FOR PULP AND PAPER MILLS?
Pulp and paper businesses have more reason than most to be cautious about digitization sweeping through industry and wider society. After all, the rise in digital communications has hit the demand for paper hard in recent years.
This white paper looks at the importance of harnessing the right digital solutions to drive ROI for minimal risk, why Predictive Maintenance can make a major contribution to profitability and how paper and pulp companies can succeed in a changing world.
Download your free Predictive Maintenance Promises Increased Margins for Pulp and Paper Mills White Paper
IS YOUR SECTOR RIPE FOR SERVITIZATION?
Servitization has become a successful contractual model in aerospace and defense industries in recent decades, and today there is enormous potential to roll out similar servitization agreements across other industries. If servitization is so great, why has it been largely confined until recently to high-risk, high-value 'edge applications' such as aerospace and defense?
This white paper looks at why now is the perfect time for end users and OEMs to embrace servitization, the role Industry 4.0 plays, and why cost and scalability are no longer obstacles preventing servitization from being rolled out across many otherwise promising sectors.
Download your free Is your Sector Ripe for Servitization white paper
AUGMENTING HUMAN EXPERTISE WITH MACHINE LEARNING
Free-flowing data is fast becoming the chief currency in this smart environment. Even so, data is pointless unless it empowers people to make better business decisions. It's critical that the new generation of industrial systems deliver a user experience that makes people's working lives better.
This white paper looks at the importance of humans within industry 4.0 and smart factories, the impact of well-designed systems and why Attention Index is crucial to efficient operations.
Download your free Augmenting Human Expertise with Machine Learning white paper
IMPROVING PDM WITH MAINTENANCE DATA
Moving from a reactive to a Predictive Maintenance approach requires a change of mindset and structure within an organization. From the top down, the focus must shift to one of continuity and efficiency through the use of data and technology.
This white paper looks at the role of IT team to deliver value, the effect of work events on machinery data and the best practices for data collection and transfer.
Download your free Improving PdM With Maintenance Data white paper
DATA IS THE NEW CURRENCY
Organizations can reap big rewards by freeing up their data. The availability of unprecedented levels of process and operational data, combined with smart technologies that interpret that data and turn it into actionable information, is enabling users to make better business decisions.
This white paper looks at the role and importance of data in asset management and the obstacles many organizations face achieving Industry 4.0.
Download your free Data Is The New Currency white paper
SECURITY CONSIDERATIONS FOR SCALABLE PREDICTIVE MAINTENANCE
Predictive maintenance and other connected technologies associated with the smart factory revolution offer huge opportunities for production efficiency and visibility, but they also bring a new operational risk – security.
This white paper looks at the security considerations organizations should be taking note of when implementing a scalable predictive maintenance program.
Download your free Security Considerations for Scalable Predictive Maintenance white paper
ELIMINATE OVERSPENDING ON MAINTENANCE
Unplanned downtime can cost businesses dearly, so it's no surprise that downtime reduction tops most wish-lists when it comes to making the switch from planned to Predictive Maintenance (PdM). However, there are other big rewards on offer.
For maintenance professionals, the consequences of over-maintenance maybe harder to measure, but eliminating it can make a big difference to operating costs.
This white paper looks at whether over-maintenance can be avoided, how PdM can help eliminate maintenance overspend, and the welcome boost PdM makes to the bottom line and the ROI industrial companies can expect.
Download your free "Eliminating Overspending On Maintenance" white paper
ARE YOU READY FOR PREDICTIVE MAINTENANCE?
A wave of new industrial technologies is enabling a revolution in the way companies approach maintenance and asset management.
Automated condition monitoring systems can combine with cloud delivery to bring the widespread use of Predictive Maintenance(PdM) within the reach of many users for the first time.
This white paper looks at what pre-requisites are needed to enable organizations to make the switch to Predictive Maintenance, the steps organizations need to take to make PdM a reality, and how to maximize the benefits that this maintenance practice brings.
Download your free "Are You Ready For Predictive Maintenance?" white paper
RUNNING AN INITIAL DEPLOYMENT (ID)
The advent of Industry 4.0 has seen condition monitoring and predictive maintenance develop from manual machinery checks and recommended maintenance schedules to understanding and managing ongoing machinery health, servicing each piece of equipment as required rather than as a maintenance schedule dictates.
This white paper looks at why you should carry out an initial deployment, the areas to consider and put in place before starting an initial deployment, and what success metrics to consider for an effective evaluation.
Download your free Running an Initial Deployment (ID) white paper
AI ISN'T MAGIC
Artificial intelligence (AI) is already a part of our everyday lives. Whether asking Alexa to play your favorite song or using Google to find information, the use of AI is no longer the subject of science fiction and theoretical papers; it is reality. But what is it exactly, what can it be used for and will it help or hinder organizations and their workers?
This white paper looks at the three stages of AI, how it can have a large impact on factories, and why pairing human skills with AI technology can enhance overall performance.
Download your free AI Isn't Magic white paper
PROGNOSTICS: GOING BEYOND CONDITION MONITORING
Prognostics is about forecasting the risk of failure long before there is an operational impact, providing a time to the failure (Remaining Useful Life, RUL). It is achieved through combining condition indicators to determine a degradation indicator that is modeled and tracked.
This white paper explores some of the background of prognostics, what questions to ask when evaluating a prognostics tool and how technologies such as the Industrial Internet of Things are helping to make it accessible.
Download your free Prognostics white paper
CONDITION MONITORING: PAST, PRESENT AND FUTURE
Condition monitoring is not a new idea, but traditional barriers of cost, complexity and scalability have previously prevented many more businesses from enjoying the enormous benefits on offer. However, we are now at a tipping point where new technologies such as Industry 4.0 are sweeping those barriers away.
This white paper considers where we've come from with condition monitoring, the changes that are currently taking place and what organizations need to consider for future implementations.
Download your free Condition Monitoring white paper
EVERYTHING AS A SERVICE: HOW SERVITIZATION CHANGES EVERY BUSINESS
Servitization has traditionally seen success in niche areas such as aerospace, with Rolls Royce's 'Power-by-the-Hour' program arguably the most famous example. Now with Industry 4.0 gaining momentum, sectors as wide-ranging as offshore wind, white goods and food & beverage all stand to gain from servitization arrangements.
This white paper looks at why manufacturers should be embracing the opportunities servitization can bring, the sectors that have already benefited and the role it can play in providing greater openness in the supply chain.
Download your free Everything As a Service: How servitization changes every business white paper
EFFECTIVE CONDITION MONITORING: AN ENABLER FOR PREDICTIVE MAINTENANCE
Before thinking about what to measure, it's important to be clear on your motivations for implementing a condition monitoring program and exactly what you want to achieve.
This white paper, written in conjunction with Andy Gailey from Uptime Consultant, looks at the types of assets you should be measuring and the types of data you need to be collecting to enable predictive maintenance.
Download your free Effective Condition Monitoring: An Enabler for Predictive Maintenance white paper
HARNESS THE POWER OF PREDICTION: MAXIMIZE ROI WITH THE RIGHT CONDITION MONITORING SOLUTION
Switching to a predictive maintenance regime can slash the number of machine breakdowns and unplanned downtime, as well as helping manufacturers to target maintenance efforts where they're needed. But what's stopped many organizations from making the switch?
This white paper looks at the obstacles manufacturers need to overcome, how the arrival of smart technologies has helped tackle some of these challenges, and the potential impact predictive maintenance can have on ROI.
Download your free Maximize ROI with the Right Condition Monitoring Solution white paper
USING THE IIOT TO PREDICT THE REMAINING USEFUL LIFE OF YOUR ASSETS
Industrial maintenance teams are under increasing pressure to keep machinery running and to optimize its lifespan. The low-hanging fruit have been plucked and attention now turns towards more effective maintenance strategies.
This white paper looks at how the Industrial Internet of Things has enabled prognostics and condition monitoring technology to become more accessible and be applied much more widely.
Download your free using the IIoT to Predict the Remaining Useful Life of your Assets white paper
THE IMPORTANCE OF REGIME RECOGNITION FOR CONDITION-BASED MAINTENANCE
Condition-based maintenance and Predictive Maintenance benefits are significantly enhanced if there is a mechanism to characterize the operating mode of the machine using operating state (regime) recognition.
This white paper explores the importance of collecting reliable and meaningful trending data, how to define operating regimes and the relationship between regime recognition and condition-based maintenance.
Download your free Regime Recognition white paper
FROM CONDITION MONITORING TO PREDICTIVE, CONDITION-BASED MAINTENANCE
Condition-Based maintenance has proven to be highly effective in industries where safety and reliability are the key concern. Advances in technology now allow for mass data collection, processing and analysis, making predictive condition-based maintenance more accessible to wider industry, beyond its aerospace roots.
This white paper explores the limitations of traditional condition-based maintenance approaches and looks at the challenges and benefits when adopting a predictive approach.
Download your free Condition Monitoring to Condition-Based Maintenance white paper
CONDITION-BASED MAINTENANCE: WHAT CAN WE LEARN FROM THE AEROSPACE INDUSTRY?
Prohibitive cost and the lack of the health & safety legislation have largely held back the adoption of helicopter-style HUMS in the manufacturing industry.
This white paper looks at the history of Health & Usage Monitoring Systems (HUMS), with Senseye's CTO Rob Russell providing his view on what the manufacturing industry can learn from the aerospace sector.
Download your free Condition-Based Maintenance white paper
Senseye's webinars
In addition to writing white papers, Senseye regularly runs live Predictive Maintenance Webinars.