Alcoa
Alcoa Corporation is a global leader in bauxite, alumina, and aluminum products, built on a foundation of strong values and operation excellence dating back more than 130 years to the world-changing discovery that made aluminum an affordable and vital part of modern life.
Alcoa operates production plants worldwide and have applied breakthrough innovations and implemented best practices that have led to increased efficiency, safety, sustainability, and stronger communities wherever they operate.
INSEE Cement
INSEE Cement, also known as Siam City Cement Company (SCCC), is a leading cement manufacturer in Southeast Asia. Its cement manufacturing facility in Saraburi, Thailand, is the world's largest cement production complex.
SCCC had committed to running a showcase Digital Factory for the ASEAN region and had already invested heavily in smart factory equipment and sensors.
Nissan
Nissan manufactures vehicles in 20 countries and areas around the world, including Japan, USA, Russia and the UK. Its global vehicle production volume exceeded 5.6 million in 2016, with products and services provided in more than 160 countries.
With an abundance of data and insufficient skilled resources to perform analysis, Nissan were keen to expand the benefits of using data to influence maintenance.
Schneider Electric
Schneider Electric is leading the digital transformation of energy management and automation. The company does 90% of its business on energy demand, covering 4 main markets: Residential & Building, IT (Data centers & networks), Industrial and Infrastructure.
Schneider Electric has a broad partnership with Senseye as both a Senseye customer and also enabling Senseye within the digital ecosystem through their Schneider Electric IIOT platform "Exchange".
Smurfit Kappa
Smurfit Kappa, a FTSE 100 company, is one of the leading providers of paper-based packaging in the world, with operations in 23 European countries and 12 countries in the Americas. Almost all the raw materials are sourced from its own paper mills, so consistency is always a key attribute of its products.
The plant in Norwich manufactures corrugated sheet board and wanted to achieve an increased Uptime performance with improved plant reliability.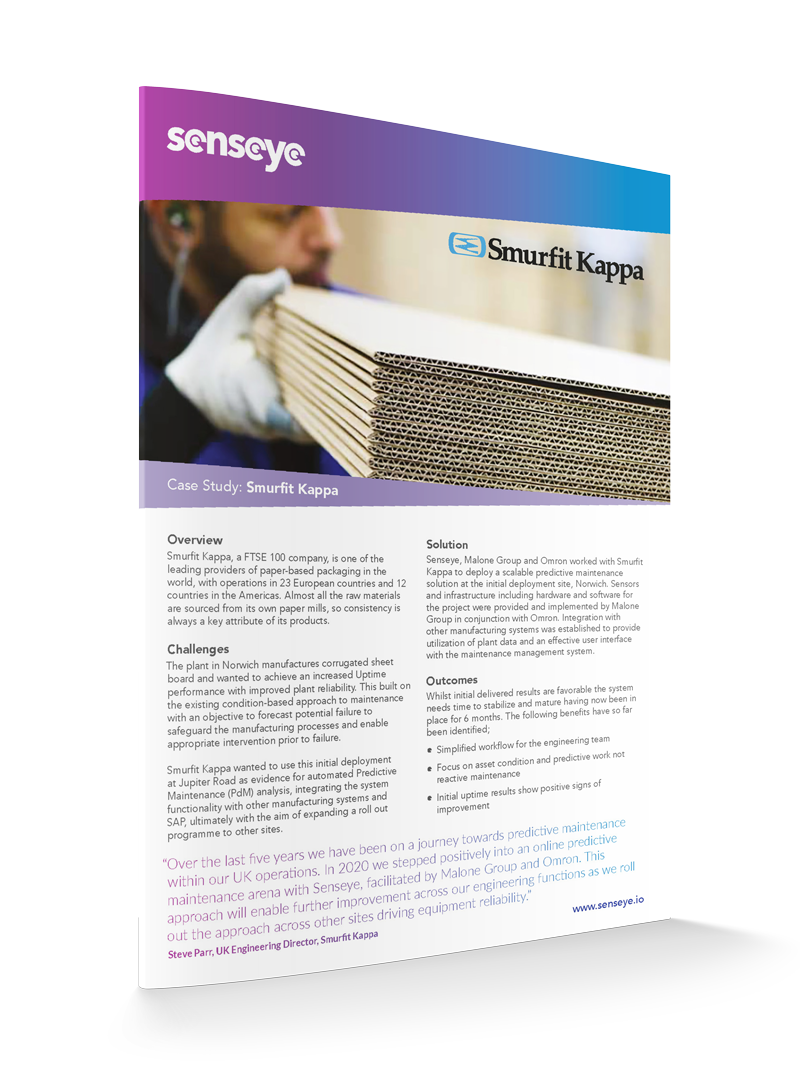 The MTC
Experts from the MTC approached Senseye at the beginning of 2018 when it was looking for partners to collaborate on its Factory in a Box project. The goal was to develop an Industry 4.0 demonstrator and partnership framework to showcase how manufacturers could deploy innovative technologies rapidly to provide digital factory capabilities almost anywhere in the world.
The MTC was looking for a PdM solution which would be able to integrate with existing partner technologies and could be managed remotely, without the need for expert manual analysis.
Interested in learning more?
Then get in touch to arrange a demo